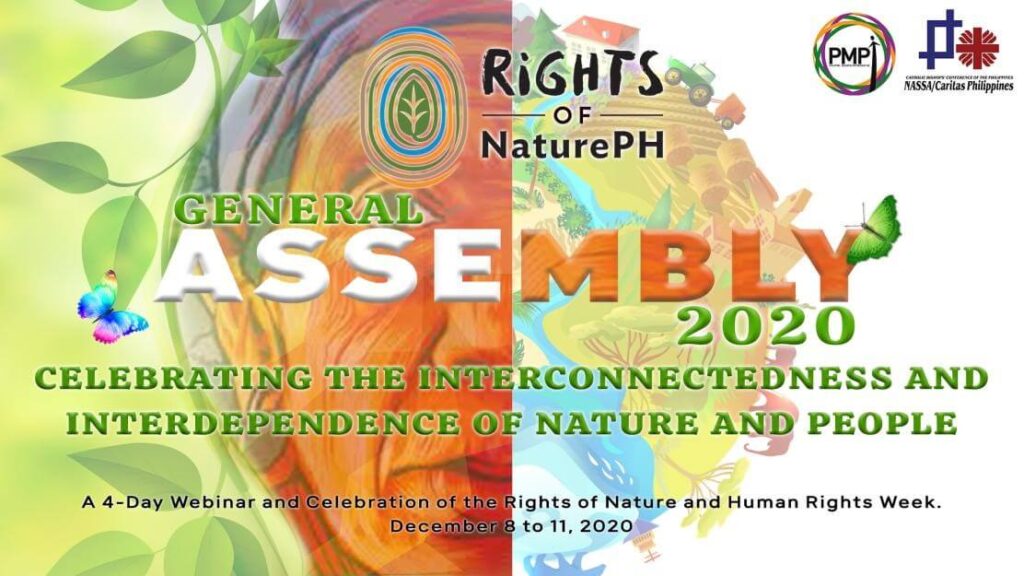 On December 8 to 11, 2020, the Rights of Nature PH movement held its General Assembly. Below are the full videos of the webinars.
Rights Of Nature Paradigm
DAY 1 | Dec. 08, 2020
Resource Speaker: Atty. Mumta Ito
Founder, Nature's Rights
Exploring Holistic Development Paradigm that could address the current state of the Mother Earth

DAY 2 | Dec. 09, 2020
Resource Speakers: – Michelle Maloney,
PhD National Convenor – Australian Earth Laws Alliance Founder, Nature's Rights

– Atty. Juancho Torrevillas Senior Legal Officer, Office of Senator Risa Hontiveros

Understanding the Earth Jurisprudence and how the Rights of Nature Bill bill in the Philippines can usher a new legal framework for Environmental Protection
DAY 3 | Dec. 10, 2020
Resource Speakers: – Chuck O'Neal, Chairman of Florida Rights of Nature Network – Engr. Kenneth Artes of Bayawan City Agriculturist, Local Government of Bayawan, Negros Oriental
– Atty. Galahad Pe Benito of Far Eastern University – Institute of Law

Highlighting local initiatives in protecting people and nature. Also showcasing how local legislations can promote the recognition of nature's rights and strengthen actions that will protect and preserve the environment and people.

DAY 4 | Dec. 11, 2020
Resource Speakers: – Mimo Perez and Atty. Aubrey Albo-Perez of Consciousness Expansion Companion
– Sarah Queblatin, Co-Founder and Executive Director, Green Releaf Initiative
– Noli Mercader, President, Gubatnons for Adventurism Inc. (GFAI)
Practical ways of Living a Simple, Sufficient Lifestyle